About Buff & Flo
We are focused on offering quality & variety with our classes, teachers, apparel, and studio space
About Buff & Flo
Buff & Flo was created and built around bringing unique styles and variety into one space. We are a group of individuals dedicated to sharing yoga and fitness classes to help you connect your physical, mental and emotional body. Our teachers have trained under an assortment of styles so you can expect to get more out of belonging here. We aim to provide a one stop shop for you to explore and benefit from all that we have to offer.
With a dedicated staff who will offer a space of growth, each person will come into a welcoming environment. We will provide the tools needed to begin or help you continue along your fitness journey. Our name and logo alone stands for a creative statement of diversity as we believe not just in a physical fitness practice, but a way of living authentically.
Our mission statement is simple:
Build a place of balance with a wide range of adult and children's classes.
Inside Our Studios
Buff & Flo's studio space is located on the 2nd floor in one of Orchard Park's beautiful downtown historic buildings. The original hard wood floors were restored from 1927 to bring the authenticity of the space back to life. With large windows letting in tons of natural light, the consciously designed space is filled with thoughtful amenities. The studio has built in sound proof walls with plenty of space including elevated platforms for our teaching staff to utilize during classes.
We were inspired to construct a space with convenience and comfort so you can effortlessly come to your class or classes with ease and purpose. From our fully lined wall of hooks for your clothing and coats, to shoe spaces and 2 changing room areas for those wanting to store their personal belongings, we've put thought into every square foot so you can step into our world with contentment.
We supply blocks, straps and bolsters. Mats are available for purchase in our front room shop, when in stock. Additional equipment for specific classes provided can be found inside the studios. All you need to bring is a water bottle, a yoga mat when applicable (see class descriptions) and our recommendation of wearing fitted work out clothes, ones that wick moisture are best!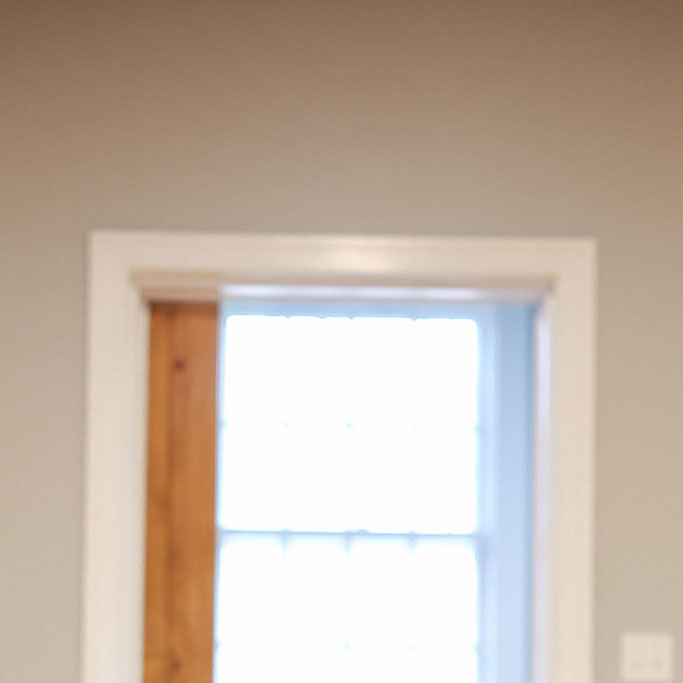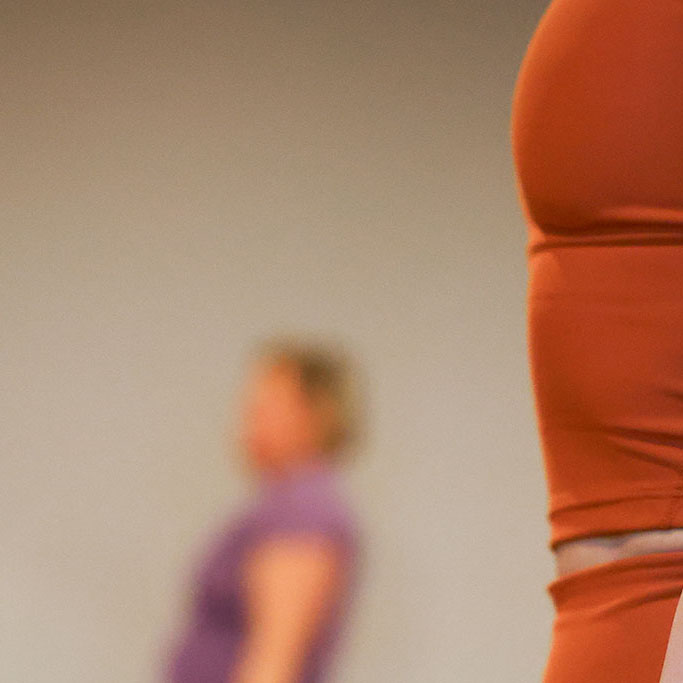 Jessica Radon
Owner
Jessica Radon is the owner at Buff & Flo. She relocated to Orchard Park in 2016 from Dallas, TX. While she enjoyed taking classes in different places, she longed for something close to her house that would not only bring community but also mirror studios she was active with in other parts of the country. She loved the idea of renovating an older historic building and bringing back the original character with mixing in her full time career of design into the aesthetics. Missing practicing somewhere with Infrared heating, she knew she needed to also bring the immense benefits of that style to Buffalo. Introducing people to the amazing feeling of taking heated classes in a style that has many health benefits is so fulfilling to her goal of bringing wellness in all forms to Orchard Park.
Jessica began her passion and love of teaching others growing up in Connecticut and teaching summer camps for the National Cheerleader Association. She traveled the entire Northeast instructing athletes and camps of all sizes for 10 years as a Head Instructor for the company. At the same time, her career on the other side of the brand in the apparel division also began where she lived all across the country the past eight years. She currently is the National Director of Design for Varsity All Star Fashion. Her job would lead to a lot of responsibility and team leading, where yoga totally came into play as the perfect balance to her life.
Through the years her journey teaching choreography, judging and instructing continued and she was introduced to Yoga, another passion she was instantly hooked to. She loved the physical benefits but also the mental connection she gained from practicing. After suffering 6 months of postpartum after having her son, she truly began "the work" and connection gained from yoga and credits her practice to helping her overcome that stage in her life. Eager to learn more she had discovered many variations of styles of yoga and wanted to further pursue her ambition of teaching. Jessica completed both Level 1 and Level 2 with the Baptiste Institute and enjoys leading power flow classes at the studio.
In addition to yoga, she enjoyed taking Barre classes and decided to add that to her portfolio as well. She trained in Nashville and loves bringing a totally different approach and style to Orchard Park. Many of the teachers have a similar relocation story to Jessica and training outside of the Buffalo area to bring unique variety and passion to every class. She loves teaching as well as guiding her instructors to being the best versions of themselves they can be.
She has built a very welcoming environment that aims to have classes for every age and ability level. Recognizing not everyone likes the same type of yoga or style of class the studio offers uniqueness and the teachers are encouraged to be hands on and lead technique driven classes.
Amber Breen
Instructor
From the moment Amber experienced a hot yoga class about 7 years ago, she was hooked. As a former gymnast and college cheerleader, she loved the challenge and the familiarity of a lot of the poses. Amber knew that no matter what kind of day she was having, if she took a yoga class, it would leave her feeling empowered, inspired, and in a better mood than when she first stepped on her mat. That is why she just keeps coming back to this practice. It has been life-changing in many ways both on and off the mat. She teaches because she truly wants to share this transformative and powerful practice with others. Not only does this practice change lives, but it connects people to themselves and to others. Her goal is to have you experience change in your body from the inside out, by feeling physically and mentally restored. Show up as you are, and be ready to sweat!
Training- Baptiste Level 1, Baptiste Power Yoga Teacher Course, Baptiste Kids Teacher Training Course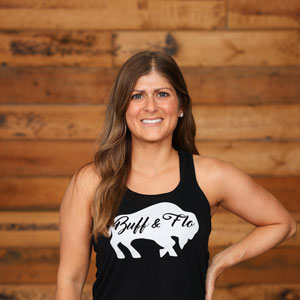 Brittany Serafini
Instructor
Brittany Williams
Instructor
Growing up a dancer, Brittany has always been in tune with the body & making sure it's as healthy as possible. She likes to thank her Aunt, who has been a pilates instructor for 15+ years for introducing it to her while she was still dancing. Once dance was over, she soon came to realize how much she loved pilates and decided to get certified in both, Mat and Reformer. Through her certification process, she got to witness the dramatic effect Pilates had on a few of her instructors clients. Ever since then, Pilates has become her passion to help guide people with physical strength, flexibility, posture, and enhance mental awareness.
Brooke Bain
Instructor
Brooke was trained and certified in Mind Body Barre in 2015. She has taught for a year at Orchard Park Country club, pop up classes at a studio in San Diego, California, and has also been teaching in a private studio in her home. Brooke is excited to share her love for barre- combining an awesome workout with a lot of fun.
Cat Henry
Instructor
Cat Henry is a barefoot (grippy sock) workout enthusiast. As a health communication professional, she lives and shares her passion for wellness. Cat is barre certified by Barreworks in Toronto, Canada and Vault Fitness in Boca Raton, Florida. She is also a pilates lover, certified through Classical Pilates Education for Mat Pilates. Born in the South, and raised in the Midwest, she found her way to Boston and Los Angeles before becoming a farmer's wife and mother of two in Eden, New York. Cat is very excited to connect with like-minded individuals in the Southtowns. She believes in kindness, karma, and creating your own journey - with a glass of wine.
Christy Shields
Instructor
Christy has been practicing yoga her whole life, starting as a child with her mother in their living room. A lifelong runner, she valued the benefits of stretching after a run, and found yoga to be integral in completing two full marathons. Earning her Master's Degree in Occupational Therapy in 2003, she began to practice yoga with her pediatric OT students. She recognized the power that yoga had in strengthening growing bodies and minds, instilling body awareness and confidence, as well as its many other benefits. Her philosophy is, "Anyone can do yoga!" and her anatomy-based approach ensures that each yogi will be taught to safely move through poses in a judgment-free environment. Through breathwork, props, and modifications, she can help you tailor your practice to make it work best for your unique body. Training- 200 CYT
Erin Reukauf
Instructor
Gabrielle Ebsary
Instructor
Jill Wojcik Pula
Instructor
Jill grew up in Buffalo, NY but left after completing her Master's Degree in Social Work. She was blessed with the opportunity to live in Hawaii and travel to the Pacific and Asia. These experiences opened her eyes to different cultures and spiritual practices. After leaving the islands, and moving to Tennessee, took the next step in shaping and advancing her interest in Yoga. She completed her 200 hour teacher training in 2012 at Sanctuary for Yoga in Nashville, TN with hopes of integrating it with her work as a child and family therapist. Seeking more knowledge, she then completed a 300 hour teacher training with a specialty in Ayurvedic Wellness (one of the world's oldest whole-body healing systems).
Her newest role is that of mom. She has an amazing little man, Alexander, who has been the best teacher. He motivates her to want to be a better person, someone he will admire and model himself after.
She loves all things spiritual. She loves nature, meditation, and chanting. She is not flexible - physically speaking - so she has to work at it, accepting and surrendering to the challenges of the asana practice. Jill loves yoga because it helps her to show up fully for life, to evolve - to see things differently and explore her greater self.
Jill is grateful for gurus who have shared their wisdom and knowledge with her. They have taught her that life can be messy, but that is what makes it beautiful. The power is to be able to sit with it (feel it fully), learn and evolve. Training- RYT 500
Kelsey Gopsill
Instructor
It all started in warrior 2. Kelsey was on the mat (in her third yoga class ever) struggling to keep her arms up ANY longer in warrior 2, when a sweet gut punch of enlightenment fell upon her. Time stopped, the worries stopped, and the journey began. In that moment she felt such an immense sense of release. Release of all the battles she was fighting, the to-do lists for the day, the judgments, and complete release from any ego. Kelsey experienced a connection to a deeper part of herself, and it was in that moment that she believes that it was truly the first time she met the purest part of her soul and purpose. The music that the teacher was playing infiltrated her entire body, and it was in that moment that she realized that she was supposed to guide others to this exact feeling. Two days later she signed up for teacher training.
Kelsey graduated her first training in 2016, and since then she made it a mission to create and guide hundreds of classes on a sweaty 60 minute journey of movement, love, creativity, and lasting transformation. She looks forward to guiding each and every student that attends her class. Flow with you soon.
Maureen LaMarca
Instructor
Maureen has always been physically active. In her youth, she played various sports but her loves were dance and cheerleading both of which she continued into college. Being conscious of health and fitness have always been of upmost importance to her. Prior to getting into the fitness industry, Maureen was working as a licensed therapist for over 16 years. Through her experiences with mental health, she learned how interconnected people are mentally and physically. This all sparked her desire to do more to reach people and help them be healthy in mind and body.
Maureen became a fitness instructor in 2014 with Cize Live and has continued the trend with certifications in Country Heat Live, Core de Force Live, Kettlebell AMPD, and most recently AMPD Strength. She is currently finishing up her certification through NASM for personal training. Maureen carries the title of Certified 2B Mindset Mentor which is a nutritional program. Group Fitness has given so much to Maureen over these last few years including wonderful friendships and the opportunity to empower others to take charge of their health and wellness.
When Maureen is not teaching fitness classes, she is spending time with her husband of 10 years Nick and their two beautiful children, Adalina and Sammy. She helps coach their baseball and softball teams and is their biggest cheerleader for gymnastics and football. Maureen continues to work in the mental health field as well as incorporating Life Coaching into her practice.
Paige Hurley
Instructor
Rachna Clerici
Instructor
Rachna brings her peaceful essence to the studio, guiding students through a motivating, revitalizing, and strength building practice. Her classes focus on integration of breath, alignment of the body, and quietude of the mind. She concurs that this practice becomes essential in the whirlwind of life, bringing us back to balance. For Rachna, teaching and practicing yoga is pure JOY. She loves to share the practice of yoga with children, teens, and adults alike. With over 20 years of practicing and 13 years of teaching, Rachna continues to learn, share, and connect with others.
Outside the studio she enjoys skiing, hiking, cycling, cooking, traveling, reading, poetry, creating mandalas, and other free forms of art. "Yoga is the emergent light that shines into your soul and radiates out into the world. It is a sacred dwelling inside your heart where mind, body and spirit become the essential harmony of your soul. Yoga is a promise of beauty blossoming every day." -Rachna
Rachna Clerici teaches Vinyasa, Restorative Yoga, and Hatha classes. She also teaches Kids and Teen Yoga.
Certifications: 200 hour Essential Yoga at Open Sky 2006, 200 hour Essential Yoga at Open Sky 2016, "Relax and Renew Restorative Yoga" Judith Lasater 2008, Rainbow Kids Yoga 2011, Continuing Yoga Education and Workshops
Robin Reed
Instructor
Seeking out more understanding for the mind, body, & spirit has always been an adventure. Growing up between the beach and the woods, Robin was always searching for a connection. A connection to the magic of the world. Robin had been a very active child and teenager growing up. There were many times she questioned universal love and how one could truly find that divine love and light through self.
On her 24th birthday, she hopped on a plane solo to Koh Phangan, Thailand where she received her RYT 200 hour Yoga Teacher Training for Ashtanga Yoga Primary Series. She became certified through All Yoga Thailand in November, 2016.
Since then, she has worked with many students of all ages from 12 years of age to seventy. She has also hosted workshops and pop-up classes teaching students about their mats, proper alignment of the body & deeper breath meditation.
Robin's devotion to her own practice, as well as teaching has developed into a constant desire for learning and growing. This has led her to a deeper understanding of educating and the experience yoga brings to all!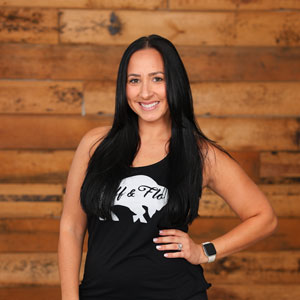 Sarah Fallon
Instructor
Sarah Fallon is a local yogi who is excited and honored to join the ranks at Buff & Flo to share the joy of yoga with little ones! Sarah leads all of our kids classes, kid pop up classes and adult/kid combo classes. She brings fun into the mind body connection and enjoys making yoga poses kid friendly. She is currently a stay at home mom of an energetic two year old son and welcomed a daughter in June of 2021! In her spare time Sarah enjoys reading, exercising, and spending time outdoors with her friends and family.
Sarah Jensen
Instructor
"Don't let anyone dim your light, just because it is shining in their eyes." Sarah started her yoga journey as a way to heal her joints and help her dancing career. She quickly learned that not only did she achieve those goals but she was able to heal the mind, heart, soul and use it as a way of self love and care. In her first yoga class she can remember thinking, "Oh my gosh, these people are nuts!" As soon as the yoga teacher said Shavasana and played a song by Ray LaMontagne, she quickly got chills all up her spine and cried for the next 4 minutes of class. She was 100 percent hooked! After a year of practicing once a day, she found Africa Yoga Project and decided to do her 200 hour Baptiste Training in Nairobi, Kenya. She went alone to Africa, not knowing anyone and teaching in the slums, jails and hospitals and had a life changing experience. When she returned home she had the itch to teach and began teaching Power Yoga at Mind Body Flow, Yogi's in Service, Radiance Power Yoga, HEAL Buffalo, a women's drug rehab and many more community events! She also dove into teaching Barre Intensity as she wanted to combine her dance background with yoga and earned that certification this past April!
You can catch her teaching Power Flows, Yoga Sculpt, Barre Intensity and at Canalside in the Summer! She tells her students you can count on her for a killer playlist, a great sweat, self love, and motivation :) She cannot wait to share her light with yours and remember Yoga Is Truly For Everybody.
Tammie Smeltz
Instructor
Katherine Lehman
Instructor
Deeply drawn to meditation from an early age Katherine has always been a student of the mind/body connection. Drawn to yoga in her teens from a background in dancing she lost touch with it as she pursued more aggressive sports like running. When she was living in Pittsburgh getting her undergrad, a wise teacher set her on her path to becoming a yoga teacher. A short time after beginning her first YTT200, she had to relocate back to Buffalo (her hometown). Unable to find find a yoga studio that felt like home, she became a running coach with a side focus in teaching private mediation sessions.
In 2019, seeking a life change after a back injury and a way to get healthier she was drawn back to yoga by the casual mention of a neighbor in Orchard Park. Her first time at Buff & Flo reignited the long-lost passion and desire to use yoga to heal both mind and body. Somehow being unable to hold a high boat pose for more than 2 seconds encouraged her to sign up for more. Yoga was the foundation on which she built a new, healthier life, leading her to lose 100 pounds and find the path back to the joy of teaching and sharing. She obtained her RYT200 from Moksha Yoga Amazonica in Peru and is certified in Vinyasa and Yin. Her passion is sharing the gift of yoga, meditation, and joyful movement with everyone and encouraging every single person as they move through their own unique journey. She is grateful to all the teachers at Buff and Flo for helping her on her path and honored to be growing alongside them.